Cloud Security
Previously we discussed the importance of implementing a cybersecurity strategy to protect you and your business. Here we look at the third step to include in your strategy.
Backup your devices and data in the cloud and work securely from anywhere.
There are countless benefits to running your business in the cloud rather than on an on-premise server in your workplace. Think business continuity, flexibility, scalability, reduced IT costs, and easy collaboration.
Aside from remote desktops, hosted application servers, e-mail, voice, backup, and disaster recovery, you can also run any application in the cloud, such as Sage and LegalSuite. This means that your data is always secure and accessible no matter where you are or what happens within your physical workplace, all you need is an internet connection.
For businesses making the transition to the cloud, robust cloud security is imperative.
Cyberthreats are constantly evolving and becoming more sophisticated, and cloud computing is no less at risk. However, working with a reliable cloud service provider can give you greater security due to pooled resources, ongoing updates and sound backup and recovery solutions.
A Global Trend
Cloud adoption is now mainstream, and growth is expected to continue in the upcoming years: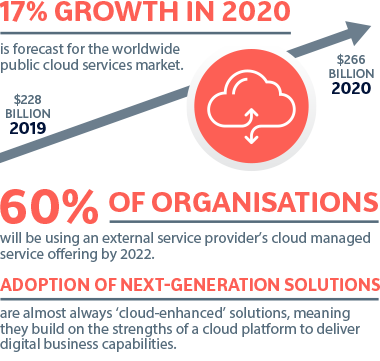 We understand cybersecurity ‣ Give us a call: 031 818 9060
Tags In