Cybersecurity Introduction
Businesses tend to take great effort ensuring that physical safety and security measures are in place, but don't always pay the same attention to cybersecurity or disaster recovery.
We all have something of value to a cybercrime syndicate, but small businesses especially need to be aware of the cyber risks that could impact their daily operations as they have a reputation for being easy targets.
Every business should have a foolproof cybersecurity strategy and an IT partner that understands and can deliver on it before, during and after a security breach, ensuring that business operations return to normal as quickly as possible.
In a series of emails over the next few weeks we will be covering the five main steps to include in your Cybersecurity Strategy.
Your Cybersecurity Strategy should include: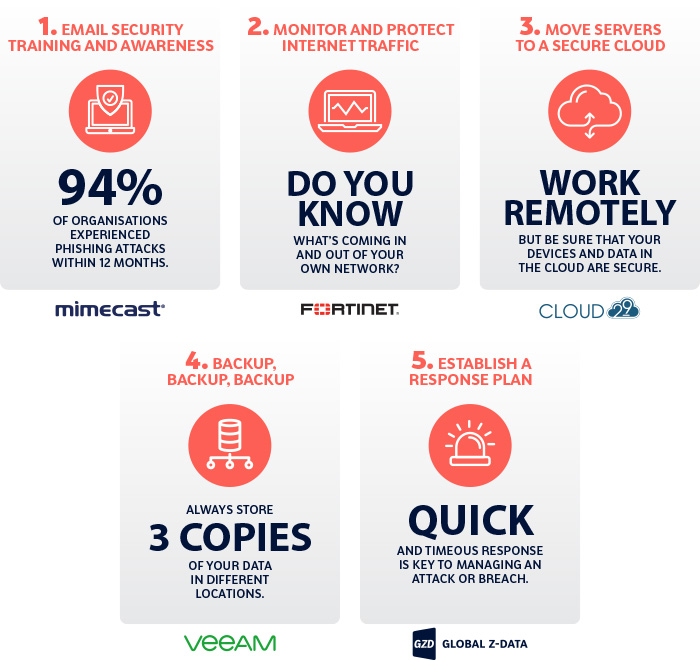 What is Cybersecurity anyway?
Cybersecurity as an umbrella term that covers many different types of internet-related security systems, such as website security, email security, and network security.
The purpose of investing in cybersecurity is to manage risks and help prevent attacks, data breaches and identity theft. These can be described as internet crimes involving unauthorised access to your computer systems and data. Common threats that you may have heard of are Ransomware, Malware and Phishing.
We understand cybersecurity ‣ Give us a call: 031 818 9060
Tags In